E.A.T.S. MEMORIAL CERTIFICATE - Order Form
Available Free On-line by download.  Print in A4 colour to own selected parchment paper.  Personal details/Photo can be added.
OR - Order ($25 includes Postage (extra copies $5)
                Email to Christine.mi@bigpond.com
                Mail to - Christine Middleton, EATS Memorial Certificate, P.O. Box 357,
                               Portarlington. Vic. 3223
                Telephone - Christine Middleton 0419526550
**Please supply -
                        Aus. Service No
                        Name of Relative
                        Home Town/State
                        Medals/Awards
                        Photo (in uniform) - Face/Shoulders
                                                       - Additional Photos (2) e.g. Squadron Crest
                                                                                                    Aircraft in Flight
                                                                                                    Crew
                                                                                                    Headstone with Location
                        Return address for Certificate
*** Book Review "War Clouds Over Benalla" - CLICK HERE
*** WWII DVD Interview with E.A.T.S. Bomber Pilot Rex Tate also for sale @ $25
*** "Aussie Flyboy" Guest Speaker Presentation also available
SAMPLE CERTIFICATE ONLY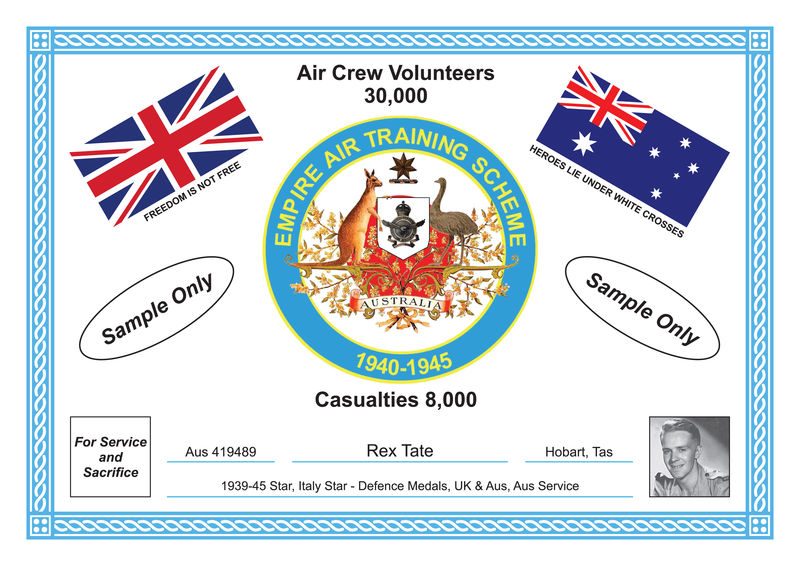 EDITABLE CERTIFICATE
***CLICK HERE to Download PDF Version Certificate
       CLICK HERE to Download JPEG Version Certificate
***NOTE - You will need to Install ACROBAT READER (Free Version) to Download and Edit
                   this Document.  The program does not allow for uploading of photographs.